RIHGA Royal Hotel Kokura
Website: http://www.rihga.com/kitakyushu
Address: 2-14-2 Asano, Kokurakita-ku, Kitakyushu, Fukuoka 802-0001, Japan

1. Basic Information

The RIHGA Royal Hotel Kokura is the landmark of Kokura. This luxurious high-rise hotel can be accessed easily via a direct link from the bullet train station to serve as the ideal hub whether you're visiting the area for business or pleasure. All guest rooms are spacious and comfortable by offering the sizes are 30 m2 or larger.

2. Access Information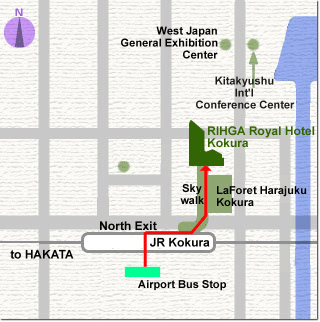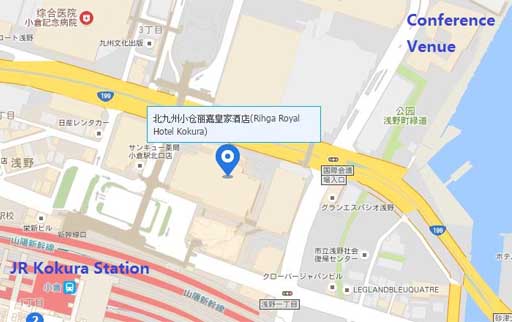 The RIHGA Royal Hotel Kokura is conveniently located near the West Japan General Exhibition Center and is easily accessible from Kokura Station on the Shinkansen bullet train.
By Bullet Train
Pedestrian bridge connects directly from Bullet Train (Shinkansen) Kokura Station.
From Fukuoka Airport
About 1 hour and 40 minutes by limousine bus to Kokura Station
From Kitakyushu Airport
About 30 minutes by limousine bus to Kokura Station
3. Price Information
Room Type
Bed Size
Occupancy*
Price#
Single Bed Room
120*200cm
1
108 USD
Double Beds Room
120*200cm
2
177 USD
Deluxe Room
120*200cm (2 beds)
+
1 Extra Bed
3
236 USD
* Japan's hotel is charged by person
# The price is 45% discount off provided by the Hotel.
American Breakfast, 10% Service Charge and 8% Consumption Tax is included.
Note:
a) Wi-Fi service is available in all rooms free of charge;
b) Check-in Time: 15:00 / Check-out Time: 11:00 (ID card or passport is needed when check in);
c) Only
50
rooms are available for conference participants due to the Sakura Season in April. Please note that Hotel Reservation will be made on a first-come, first-served basis;
d)
February 28, 2018
is the due day for Hotel Reservation. As requested by the Hotel, full payment on room reservation should be arranged in advance via
this link
.
e) After payment, kindly fill in the
Hotel Reservation Form
and send it back together with the payment proof to conference secretary via
pcm@cpcmconf.org
for further confirmation
4. Room Cancellation Policy
All cancellations must be made and received in writing.
-Cancellations before February 28, 2018 will receive a full refund.
-No refunds will be provided for cancellations after February 28, 2018 or no-shows.
5. Other Recommended Hotels
If you don't want to stay at RIHGA Royal Hotel Kokura, following are some hotels nearby. You can reserve the rooms by yourself.
Hotel Crown Hills Kokura
(Check-in Time:15:00 /Check-out Time: 10:00)
Address: 8-5, Konyamachi, Kokurakita-ku,Kitakyushu-shi Fukuoka
Tel.: +81-93-521-0109
Access: 12 minutes' walk from JR Kokura Station; 15 minutes' walk to the Conference venue
Station Hotel Kokura
(Check-in Time:13:00 /Check-out Time: 11:00)
Address: 1-1-1 Asano, KokuraKita-ku, Kitakyushu Fukuoka
Tel.: +81-93-521-5031
Access: Directly connected to JR Kokura Station; 10 minutes' walk to the Conference venue
Kitakyushu Hotel Plaza
(Check-in Time:15:00 /Check-out Time: 10:00)
Address: 1-9-8 Kokurakita-ku Kaji Kitakyushu, Fukuoka
Tel.: +81-93-531-3111
Access: 10 minutes' walk from JR Kokura Station; 12 minutes' walk to the Conference venue
Nishitetsu Inn Kokura
(Check-in Time:15:00 /Check-out Time: 10:00)
Address: 1-4-11 Komemachi, Kokurakita-ku,Kitakyushu-shi Fukuoka
Tel.: +81-93-511-5454
Access: 7 minutes' walk from JR Kokura Station; 10 minutes' walk to the Conference venue
JR Kyushu Hotel Kokura
(Check-in Time:15:00 /Check-out Time: 10:00)
Address: 1-3-6, Asano, Kokura Kita-ku, Kitakyushu-shi Fukuoka
Tel.: +81-93-522-8800
Access: 1 minutes' walk from JR Kokura Station; 10 minutes' walk to the Conference venue